Tonight we swung by Vincent's Jewelers to look at wedding bands. My choice was easy, as I pretty much knew what I wanted and what would nicely complement my engagement ring. It also helped that the minute we walked in the door, Marc said he had the perfect wedding ring for me! In fact, it's already on layaway. :) It looks something like this - 3/4 carat with princess cut diamonds:

Nate, on the other hand, was having a bit harder time. We think we want to get him something like titanium or tungsten, which is pretty much indestructible.

He liked this titanium band, which has kind of a different flair:



This tungsten band:



And Marc also thought Nate would like something like this, so he's ordering it in. This is white gold: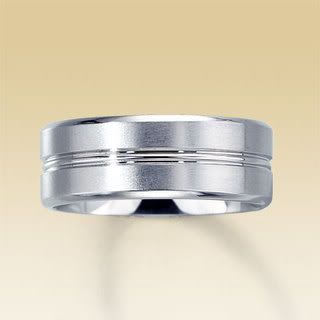 Decisions, decisions!